* Expert Audio Mastering *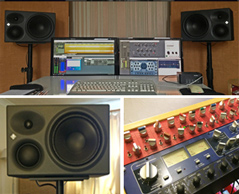 Henry Smithson is Mister Master - with over 25 years of experience of mastering hundreds of albums in all sorts of genres. His philosophy is to give your tracks Maximum Emotional Impact, to over-deliver on service, and to get the best results regardless of how long it takes. And guess what - you don't pay till you're happy! Henry specialises in pretty much every musical genre - especially those that involve real musicians!
Free Trial Offer!
We're confident that we can get the best out of your music, so we're offering this Free Mastering Trial. Get in touch if you've got a project ready to go, then you can send one of your tracks and we'll master it - no obligation, no charge if you don't like it. Email or phone - click on CONTACT for details.
* CD / DVD Manufacturing *
We also have years of experience in optical disc manufacturing, so if you want to produce a run of pressed or duplicated CDs or DVDs, I'd be happy to give you a really competitive quote for your manufacturing, with a choice of all the usual packaging formats. Feel free to get in touch if you need any help or advice on any aspect of CD or DVD manufacturing.
* Design & Artwork *
We can also help with any issues of artwork and design in relation to CD or DVD packaging. So even if you've got nothing but a few photos, we can put it all together for you from scratch, right up the point where it's properly laid out for the packaging that you want, and in the correct file formats ready to go straight to print.
---
Thanks for visiting! While you're here, you can have a listen to some Music tracks that we've Mastered, read some Testimonials from clients, look at our Gallery of CD covers from some of the hundreds of albums we've worked on, and find out about getting CDs made. Hope to hear from you soon - and don't forget the FREE Mastering Trial offer!